Thirty years ago today, 28 people jumped off a bridge in New Zealand in the first ever organised bungee jump. To mark the anniversary we pick the world's best adrenaline dives.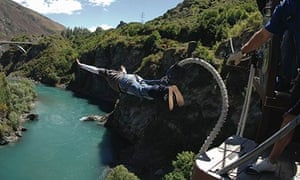 "I still recall my first jump," reminisces New Zealander AJ Hackett, the man who launched commercial bungee jumping 30 years ago . "I had the most amazing sensation."
At the time Hackett was running a struggling ski shop but inspired by British daredevils The Oxford University Dangerous Sports Club, Hackett had begun experimenting with the adrenaline activity.
Together with his friend and fellow Kiwi Chris Sigglekow, he had started doing tests with latex rubber, climbing equipment and parachute harnesses. There was no back-up, just two guys pushing their luck.
"I used to do a lot of climbing so knew about ropes," says Hackett, "but we wanted to figure out if it could be predictable, so that we could go to greater heights.
"To see who would jump first we drew straws," he explains. "Chris lost," Hackett adds with a grin. "But we weren't nervous – the first jump was only 19m – it was more about hoping it would work."
It did work and, within a year, Hackett was on a French ski tour with teammate Henry van Asch, jumping bridges up to 150m high in his spare time. In 1987 Hackett made headlines around the world,  getting arrested for jumping off the Eiffel Tower.
Hackett and van Asch quickly realised there was money to be made and, as skiers, New Zealand snow hub Queenstown seemed an obvious starting point. On 12 November 1988, the Kawarau Bridge bungy site (Hackett prefers bungy to bungee) opened for business. On that day 28 people took the plunge.
Since then, more than three million have followed suit at 15 Hackett sites around the world. Every one of them has lived to tell the tale.
Millions more have jumped at over 50 other bungge sites across almost as many countries. Accidents have happened, but they've been rare. The thrills meanwhile, just get bigger and more extreme, the craziest of which has to be Chile's £7,800 Pucón jump, a six-day trip which involves leaping from a helicopter towards the bubbling lava of a live volcano, before flying the 35 miles back to town, still bouncing around on the bungee.
If that's a little beyond your budget, then here, in no particular order, are the 10 best jumps currently on offer.
Kawarau Bridge, Queenstown, New Zealand
The Nevis, Queenstown, New Zealand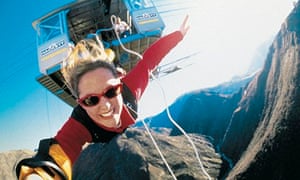 A title contender for the world's most terrifying bungee jump. The secret for this one is in the build-up: you start in a four-wheel drive and head up, up and up the bumpy mountain road until you arrive at the stark and stony Nevis gorge, in the middle of which, 134m up, hangs a cabin, blowing in the wind, which you reach courtesy of an open-air cable car. You've then got eight seconds of freefall ahead of you. 


Victoria Falls Bridge, border of Zimbabwe and Zambia
Verzasca Dam, Ticino, Switzerland
Bloukrans Bridge, Tsitsikamma, South Africa
Macau Tower, Macau, China
At 233m and in the heart of the far east's gambling capital, this is the world's highest bungee jump from a building. You leap from the outer rim of the giant tower, with mainland China just visible if you squint. Hackett and his team had to develop a "second-generation bungee cord" for the site, due to the height and need for it to fall straight, rather than swing. 


The Last Resort, Tatopani, Nepal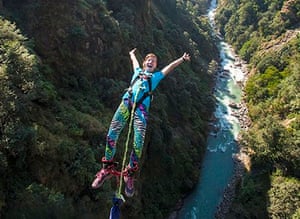 Niouc Bridge, Val d'Anniviers, Switzerland
Nicknamed "Spider Bridge" due to its cobweb of cable wires, the 190m-high Niouc is the world's highest suspension footbridge and one of the loftiest jumps in Europe. Before diving from the shaky structure, you can take in the typically vivid blue skies as well as the sublime views of the Navizence river and surrounding Alpine peaks. 


Extremo Park, Monteverde, Costa Rica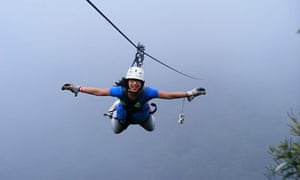 Europabrücke, Innsbruck, Austria
This huge structure, the name of which translates simply as "Europe's Bridge", stretches 657m across the Wipp Valley, rising 192m above the Sill river, just south of Innsbruck. Carrying the Autobahn that stretches through the Alps between Austria and Italy, the bridge was, from 1959 to 1963, the highest on the continent. Standing on its edge will perhaps be the smallest you'll ever feel.